Global TOP-20 projects study
Research report
incl. personal Q&A
Order before                              

€ 1,175*
Aug 31 at -15% off     

                 

€ 999*
Publication: Summer/Fall 2021
Language: English
The first commercial green hydrogen projects are under development. This global rollout of hydrogen technology is a pioneering venture into little-known waters, with many lessons for subsequent project developers to learn. Our Hydrogen Pioneers 2021 study provides real-time transparency on the top-20 green hydrogen projects as they develop.
The study comprises projects based on a rigorous selection process, validated by an online survey and in-depth interviews with the project leaders. The data collection is expected to finish by end of March 2021.
The report will cover the following highlights:
project fact sheets including setup, size, input/output, and project stage;
in-depth view on technological edge, success factors and lessons learnt;
competitor landscapes depicting project developers, technology firms, contractors, investors, and advisors.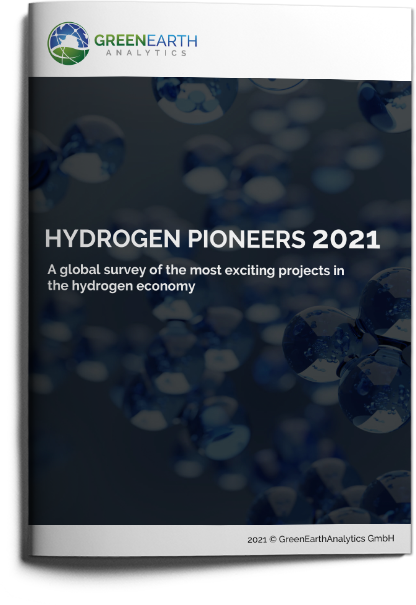 As part of our wider hydrogen market analysis, we currently monitor over 500 green hydrogen initiatives worldwide. We have applied the following four criteria to systematically select 20 projects for this study:
Beyond R&D:
only commercial and industrial-scale projects are considered.
Advanced stage:
project implementation is very close to or beyond the point of no return and the project is scheduled to go online within the next five years.
Showcase potential:
the key aspects of the projects are world-leading; i.e. application of cutting-edge technology, integration into existing operations, and/or utilisation of green hydrogen in a specific sector, e.g. the steel industry. 
Value chain:
projects not only include green hydrogen production facilities but also use cases for storage, transport, refining, and end-use.
Pre-order now at 15% discount and additionally get a free Q&A session
Benefit from our pre-order rate of € 999,- excl. German VAT. The early-bird package includes a 45 min online Q&A conference with our project leader.