2021 Global Hydrogen Landscape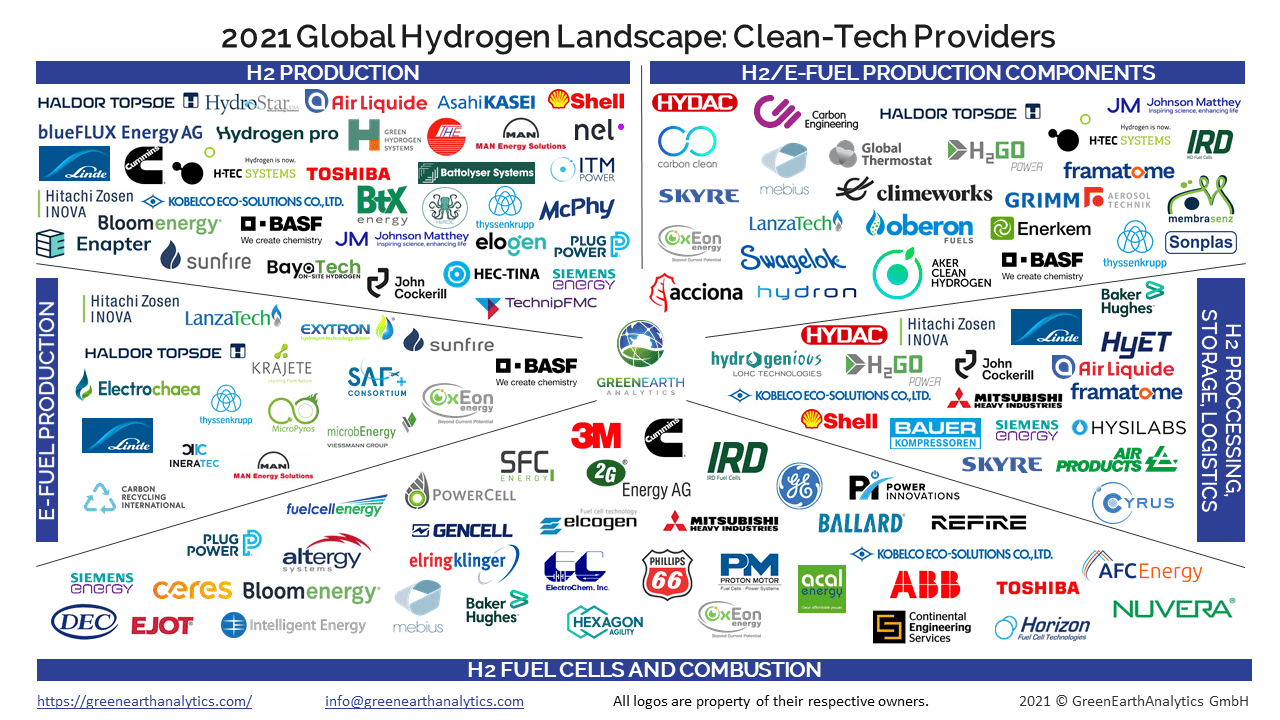 Download a free high-resolution version of the competitor landscape

here
The outcome of over 24 months of diligent market research covers 101 clean technology providers

,

categorised into five key segments of the

hydrogen value chain

.
Disclaimer. It is our ambition to monitor all relevant players worldwide. If we missed out on your company, please contact us.
H2 PRODUCTION



Technology providers for low-carbon (blue) and zero-carbon (green) H2 production processes, e.g. electrolysis, H2 from biomass, methane pyrolysis.
E-FUEL PRODUCTION



E-fuel production technologies using hydrogen as a feedstock, e.g. e-methanation, Fischer-Tropsch synthesis, e-methanol / e-ammonia synthesis.
H2 / E-FUEL PRODUCTION COMPONENTS
Suppliers of critical components for h2 / e-fuel production systems, e.g. electrolyser stacks, carbon capture systems, separation membranes.
H2 PROCESSING, STORAGE, LOGISTICS



Technology providers that bridge H2 producers to consumers

via storage, intermediary processing, compression or liquefaction, and various logistics solutions.
H2 FUEL CELLS AND COMBUSTION
Fuel cell and combustion engine producers (excluding end-use application providers, e.g. manufacturers of hydrogen-powered cars, planes, trains, and ships).
Each value chain segment can be broken down according to specific technologies. Furthermore, the global hydrogen economy comprises more than just technology providers. As analysts of the H2 economy, we provide tailor-made competitive analyses for each value chain segment.
Please get in touch with us if you want to learn more about other participants, e.g. project developers, specialised engineering firms, EPCs, lenders/ investors, energy firms, end-use system manufacturers, or digital solution providers.
Do you want to get an in-depth view of the various technology providers including a segmentation according to technological paths, market maturity, and project involvement?

Are you a hydrogen or e-fuel project developer looking for investors and lenders to finance your next plant?

Are you searching for leading engineering firms, consultancies and EPCs in the hydrogen world?

Do you want to get a comprehensive overview of the biggest and most pioneering projects and their developers from across the world?